Opportunities & Challenges of Modern Cyber Security.
We look forward to highlight the Worldwide challenges of
Cyber Threats and the case studies and solutions for
Lebanon to empower a National Policy on Cyber Security and
establish the appropriate Legal Framework.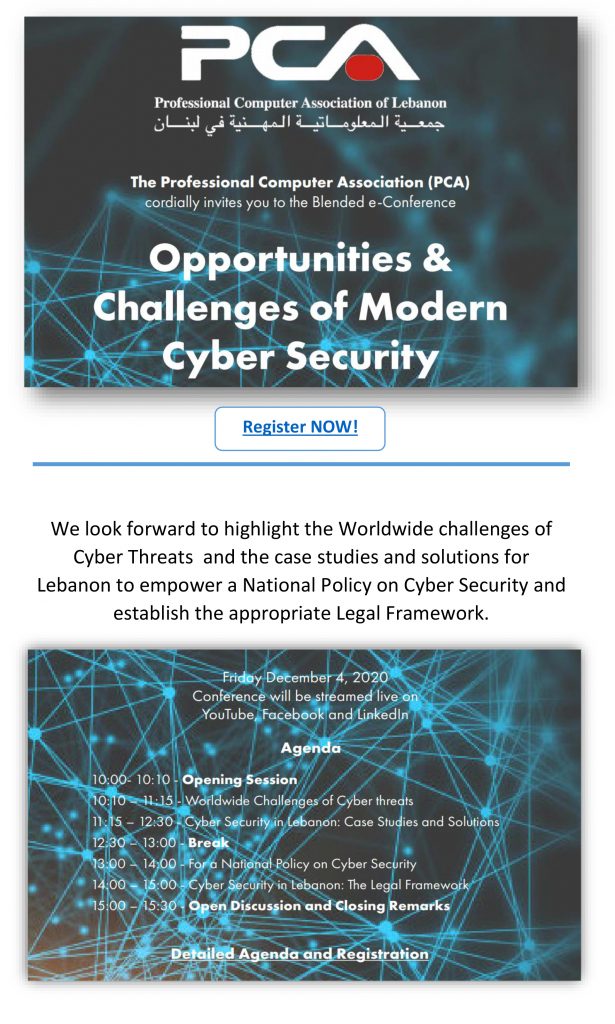 The PCA is cordially inviting you to a scheduled Zoom meeting.
Topic: Challenges and Opportunities of Modern Cyber Security
Time: Dec 4, 2020 10:00 AM Beirut
Agenda


10-00 – 10-10 – Opening Session
10-10 – 11-15 – Worldwide Challenges of Cyber threats
11-15 – 12-30 – Cyber Security in Lebanon: Case Studies and Solutions
12-30 – 13:00 – Break
13:00 – 14:00 – For a National Policy on Cyber Security
14:00 – 15:00 – Cyber Security in Lebanon: The Legal Framework
15:00 – 15:30 – Closing Remarks and Open Discussion

Join Zoom Meeting

https://us02web.zoom.us/j/88607478327
Meeting ID: 886 0747 8327