By IT Magazine ME
Open your Facebook security settings and protect your account.
Suspecting that your Facebook account might be compromised? Follow these steps to secure your Facebook password.
When you access your account open your Facebook settings.
Click on the downward-pointing triangle in the top right corner of your page (along the blue bar). Click on "Settings" to open your Settings menu.
Check or Change your password,
Click on the "General" tab in "Settings,"
Click on "Edit" to the right of "Password." You'll need to enter your current password before entering your new one, then click on "Save Changes.
When the Settings window is open,
Click on "Security" to open your security settings.
Adjust these settings, by clicking on "Edit," which appears (in blue) to the right of the specific settings.
Set up Login Alerts.
Login Alerts send you an alert when someone logs into your account from a new device or browser.
Choose to get login alerts via Facebook notifications, email, or text messages.
Click on "Edit" to the right of "Login Alerts," choose where you want the alerts sent (you'll need your mobile phone number for text alerts), and click on "Save Changes."
It is better to get alerts through every method that you can.
When you receive a login alert, and you weren't the one that logged in, that means that your account was hacked. (Red Flag)
Immediately log into your account and change your password to stop the hacker from doing any damage.
It is crucial to Activate Two-Factor Authentication. It gives your account an extra level of security by requesting a security code when you log in from an unknown browser.
Set up two-factor authentication:
Click on the word "Edit" to the right of "two-factor authentication".
Click on "Get Started" to begin the setup wizard.
The best way to access login codes is through your phone — either by text message or the Facebook app.
When you do not have your phone nearby, you can get 10 codes downloaded for emergency use. (which you can print or write down).
Open the "two-factor authentication" section:
Click on "Get codes," enter your Facebook password, and click "Submit."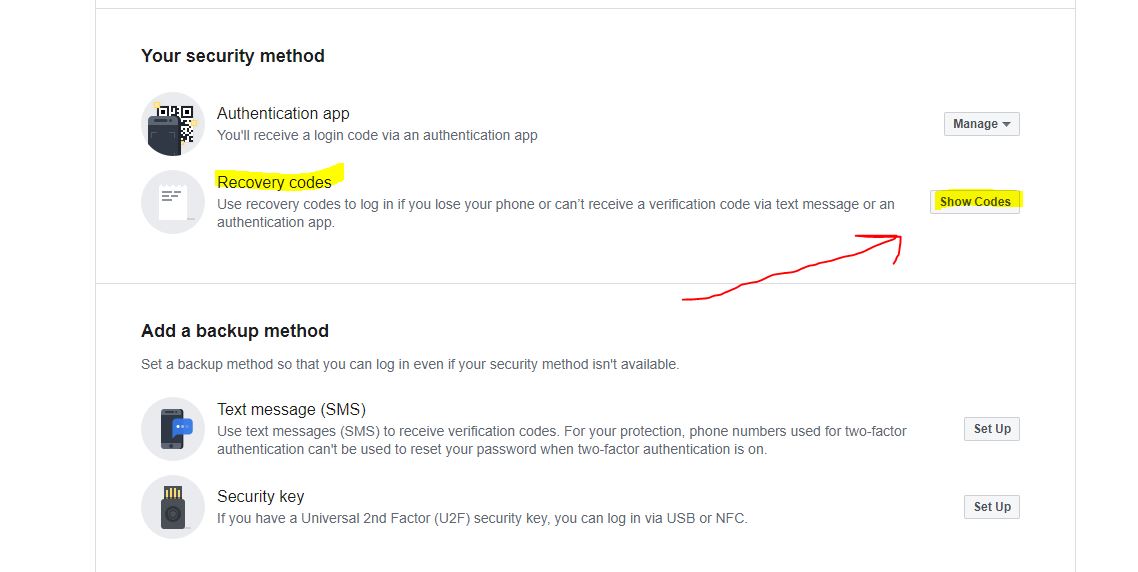 Choose Trusted Contacts.
"Trusted Contacts" are friends that Facebook enables to securely help you if you ever have trouble accessing your account.
Click on "Edit" to the right of "Trusted Contacts,"
Click on the words "Choose trusted contacts" (in blue).
Click on the "Choose Trusted Contacts" button to continue, enter your Facebook friends' names into the text box, and hit "Confirm."
Make sure that you only chose people that you trust as trusted contacts.
If you have a falling out with one of your trusted contacts, then make sure to remove them as soon as possible, since they might try to hack your account.
See Where You're Logged In.
Under the section "Where You're Logged in"
Click on "See More" to view all of the sessions that you are currently logged into.
(e.g., Facebook for desktop, Messenger, Facebook for iPhone), access dates, and locations. If you see anything odd
Click on "⋮" to the right of the session and click "Not you?", and then follow the on-screen directions.
Check the list of recent emails from Facebook.
Scroll to the bottom and select View next to the option that says, "See recent emails from Facebook".
You'll be able to see a list of recent emails that Facebook sent you.
This will help if you accidentally deleted an email that Facebook sent you.
Or if you email account was hacked and you're afraid that the hacker got into your Facebook account.
For Advanced and Professional users:
Encrypt your notification emails.
You have the option to have all notification emails to be encrypted.
Simply paste your Public Key into the box and check the setting that says, "Use this public key to encrypt notification emails that Facebook sends you?"
Every communication will be encrypted.
Stay Tuned, our next Article (part III) will be about Exercising Caution While Using Facebook