---
The lock on your phone is designed to keep unwelcome visitors from taking a peek at your texts, photos, and banking apps, but the same security measures can sometimes lock you out of your own phone. Don't panic, because there are ways to regain access. Here's what you need to do.
The bad news: wiping your phone
There's no magic combination to get back in or to reset the timer for how long until you try the code again. Otherwise, that lock wouldn't be much use in the first place. Unfortunately, without the aid of military-grade forensics software, the only way to get back control of your device is to wipe it and start over from the original factory settings. Your phone will be back in the state it was when you first bought it.
Yes, you can find online guides showing how to get into a locked phone, but be wary of them—they usually apply to older versions of Android or iOS, referring to loopholes that have since been removed. Don't trust them.
Hopefully, you have a recent backup of the device saved either to your Google or Apple account. Most phones do this automatically, and individual apps like Notes and Photos (iOS) or Doc and Google Photos (Android) constantly sync on their own. This means that recovering really important stuff will only involve remembering the password when you reinstall those apps.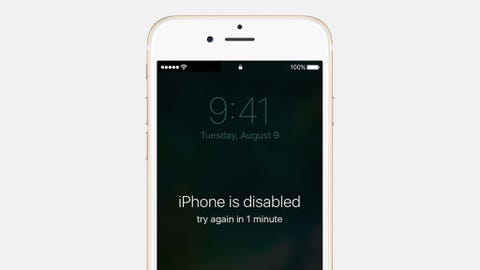 What to do next
For an iPhone, connect it to a computer running iTunes — if you don't have one, you can go to an Apple Store and use one there. Once connected, force restart the iPhone. For iPhone 8 and X or later, press and release Volume Up, then press and release Volume Down, then hold Sleep/Wake until the phone says that it's in recovery mode. For the iPhone 7, press and hold Sleep/Wake and Volume Downuntil you see it go into recovery mode. For the iPhone 6 and earlier, hold the Home Button on the bottom, and Sleep/Wake. The computer will ask if you want to Restore or Update. Choose Restore.
On stock Android and most Android phones, turn off the device, then press and hold the Volume Down and Power (Sleep/Wake) buttons simultaneously to reboot the phone into a special diagnostics mode. Tap Volume Down to highlight Recovery Mode option, then Power to select it. When it starts to reboot, press and hold Power and tap Volume Up.
Highlight the Wipe Data/Factory Reset option, then press Power to confirm. Press Volume Down to choose Yes. Once the phone has been wiped, press Power to reboot the phone.
The process varies slightly between Android phone manufacturers, so if you get stuck, look up the method for your specific model.
From here, you can set the phone up as new, or restore it from a backup (both Google and Apple have official guides). We recommend setting up as new. This gets rid of old software, and starting with the latest versions of the apps you use will help it run better.
What to do in the future
Don't be put off protecting your phone with a PIN or pattern in the future — it's all that's standing between your personal data and apps and someone who might pick up your phone after you've dropped it on the street.
Just make sure you back up everything in case you forget the code.
If your phone has the option, switch on a biometric alternative, like a fingerprint or face scan. You'll still need a core password to secure the phone, but it makes unlocking faster. On iPhones, this is under the Passcode section of Settings. On Android, it's under the Security section of Settings.
Android also has a useful feature called Smart Lock, which you can find under the same Security menu in Settings. You can have the PIN code (or fingerprint requirement) disabled when your phone is in a trusted location (like your home) or connected to a trusted Bluetooth device (like your Amazon Echo).
The most recent versions of Android have added on-body detection, so your device isn't locked when it's on you (based on its movement), and voice detection, so you can unlock your phone by talking to it. Some of these Smart Lock options could give you an alternative option to unlock your phone in a pinch, but they could also mean you'll be typing in your PIN less and making you more liable to forget it.
So maybe write it down, too.